BLOOD IN THE FACE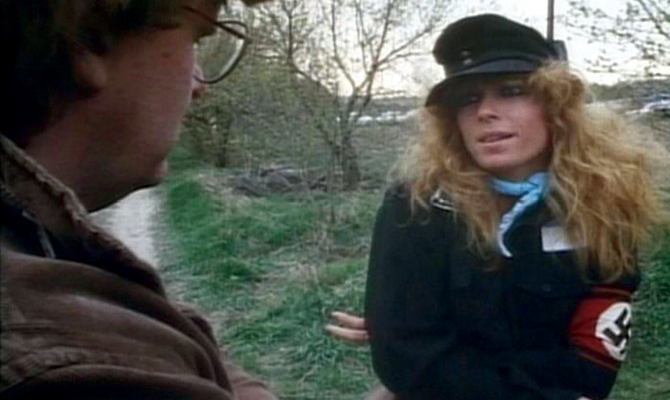 A film by James Ridgeway (political correspondent for The Village Voice), Anne Bohlen (Academy Award Nominee) & Kevin Rafferty (The Atomic Cafe) and featuring interviews by Michael Moore (Fahrenheit 9/11, Bowling for Columbine, Sicko)
This film is a riveting and jaw-dropping view of America's white supremacy movement. Rare archival footage, darkly humorous interviews, and their own promotional materials bring to light the inner workings of the Ku Klux Klan, the American Nazi Party, the Aryan Nation, The Order, and other radical right groups. With a matter-of-fact certainty, the men and women here speak of imminent race wars, Armageddon, the Holocaust hoax, interracial breeding, the Christian Identity faith, the hordes of foreign troops poised to attack America, and ZOG (The Zion Occupation Government). Controversial and timely, Blood in the Face reveals a dark and dangerous side of America.
"The filmmakers use no voice-over narration. They allow people and events to speak for themselves. 'Blood in the Face' is first-rate journalism." The New York Times
"A gutsy, scary, almost appallingly funny look at a world few of us see, from a vantage point few could imagine." Los Angeles Times
USA, 1991, 78 minutes, plus after film discussion.